Mary Gostelow's Hotel of the Week: A Wedding at The Leela Mumbai
Posted on February 5, 2015 by Mary Gostelow
order cheap viagra online canadian pharmacy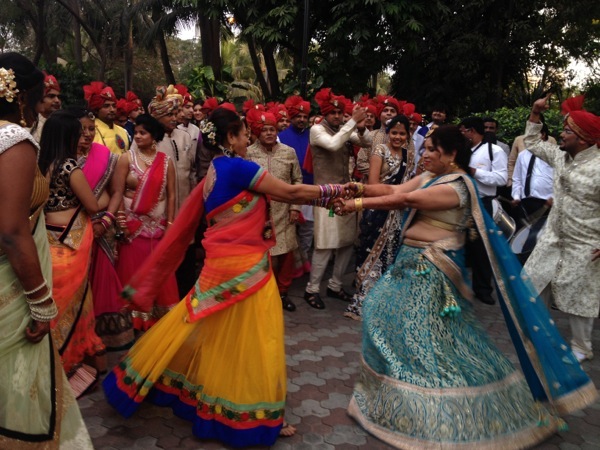 http://dishingjh.com/rations-and-base-camp-to-open-soon/ viagra canadian pharmacy The hectic and festive dancing just getting started at a wedding at The Leela Mumbai.
A weekly series featuring luxury hotel expert Mary Gostelow's hotel pick of the week.
The Leela Mumbai has many memorable points. It is a mere five minutes' drive from Mumbai Chhatrapati Shivaji airport's splendid new international terminal, designed by Skidmore, Owings and Merrill. (Compare to South Bombay hotels, which can be up to two hours away depending on traffic!) Next, the 427-room hotel, run by GM Ashish Kumar Rai, sits in about eight acres of beautiful grounds loving tended by 65 gardeners. Stay in a top floor Club room for access to the very gracious club, and use the first-class Technogym and outdoor pool to work up an appetite for Le Cirque. Italian chef Valentina Amati's T-bone Florentine-style is served with Laguiole knives and a Masi Amarone 1990.
Participants – sexes separate – walk towards the dance area.
Coincidentally, my stay coincided with an all-vegetarian wedding (The Leela Mumbai is ideal for weddings, and they seem to be genuinely pleased to have hotel guests watching and taking part). Indian weddings go on for days and nights. It's a rollicking big event with lots of alcohol followed by a more somber affair the next day for up to 2,400 local people, not at the hotel. The wedding proper is for the invited elite, 600 in all, and it is dry. It is supposed to start at 5.30 pm but I have to head to that aforementioned airport terminal and I am only in time to see the baarat, the groom's party's dance.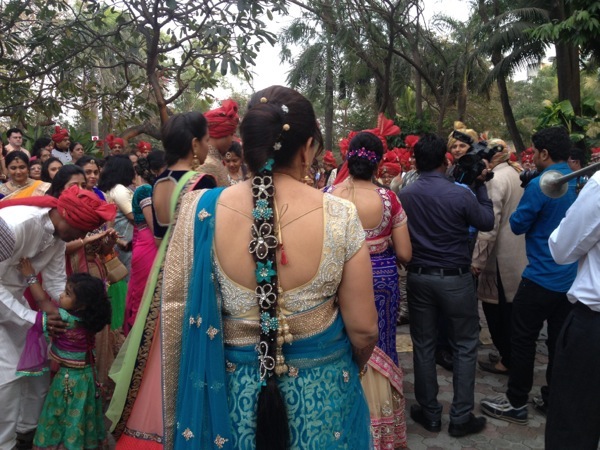 The ornate hair styling of one of the wedding's guests.
A specialist has come in to wind men's turbans. Females have patiently suffered hours of hair-dos and henna-ing of hands and arms. The group processes to the main street where a band, in white shirts and black pants, awaits. Quickly the dancing starts, anyone with anyone and who can swirl the fastest? Much later, after the bride appears and the ceremony is over, the lucky elite has an Italian, Mexican and Indian street-food meat-free buffet, and bottles of mineral water (by which time I am enjoying a glass of Taittinger up in the air).
Read last weeks' Hotel of the Week here.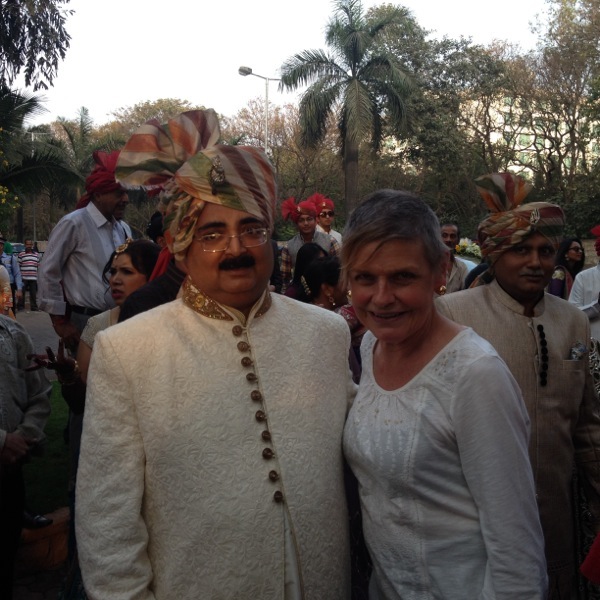 Mary with the proud father of the groom.