Mary Gostelow's Hotel of the Week: Mandarin Oriental Taipei
Posted on September 30, 2015 by Mary Gostelow
http://thematinggrounds.com/about-mating-grounds/ buy viagra without prescription usa
Located on Taipei's main boulevard renowned for its vast canopy of trees, Mandarin Oriental, Taipei has European-inspired architecture complemented by elegant interiors.
generic viagra without prescription Part of a weekly series featuring luxury hotel expert Mary Gostelow's hotel pick of the week. Photo Credit: Mandarin Oriental.
The hotel welcomes you with a grandeur and luxury with a lobby that includes an exclusively designed chandelier by Czech designer, Tafana.
When you fly into Taipei and with a reservation at Mandarin Oriental Taipei, you will be met with a keen driver who whisks you away in a Mercedes-Benz (WiFi enabled, as you expect from a top luxury hotel) and an hour later, you arrive, all emails answered, to this splendid 303-room hotel.
If still early morning, and you booked a 'club' level room, head for the sixth floor lounge. You're greeted by a desk overflowing with fresh flowers: behind it, a prettily patterned wall. Breakfast is totally exquisite, with food displayed both artistically and artisanally, say one type of muffins in a hand-hewn wood bowl next to a standing beeswax, just two elements on a 12-ft long hand-made wood table. Nearby is the open kitchen where two chefs prepare any hot item in copper pots on a long induction surface, which also has a whole gammon. All the while, chic young personnel discreetly wander around offering a glass, or another, of Ruinart, serve by the pint. There is a velvet pillow with a selection of eyeglasses, the strengths marked in gold embroidery. Come in with say, a Hermès Birkin or a Tumi and a dainty wicker basket is brought over and your bag put in it.
The outdoor heated swimming pool, surrounded by lush gardens and lounges.
I would spend the morning working out in the outstanding 24/7 Technogym, swimming in the heated outdoor pool, or simply walking the leafy streets surrounding the property. You'll be fascinated by the ant-like hordes of motorcycles zipping in and out of the motor traffic: even deliveries are by motorcycle here. The hotel is also integral with some of the best boutique-brand retail in town.
Bencotto, for larger than life buffalo mozzarella.
Lunch at one of the restaurants designed by Tony Chi. I particularly love the Italian, Bencotto, where the chef is the Ferrari-loving Mario Cittadini, whom I first met at The Regent Beijing. Here one of the specialties is Trecci campana di bufala, which is a football-sized hand-made buffalo mozzarella from Naples. It is presented on a big tray and carved table-side. Slices, set on a sharing plate, are salted, peppered, oiled and dotted with fresh and sun-dried tomatoes and parsley, and with anchovies, which go extraordinarily well with the mozzarella. Hotel GM is cycling enthusiast Paul Jones. See from the image how immaculate all his female colleagues are – their garb by Japanese top designer Masaru Mineo.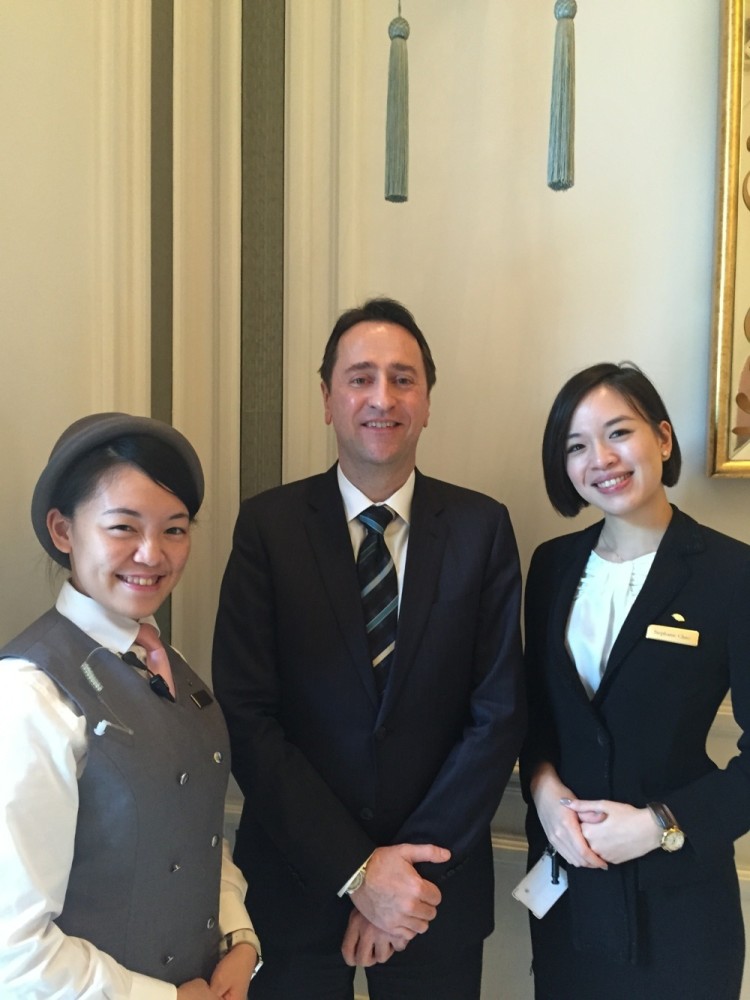 Mandarin Oriental Taipei GM Paul Jones with his staff.
Read last week's Hotel of the Week here.