Best of Quebec for All Ages: Montreal & Quebec City
Posted on October 28, 2015 by Cari Gray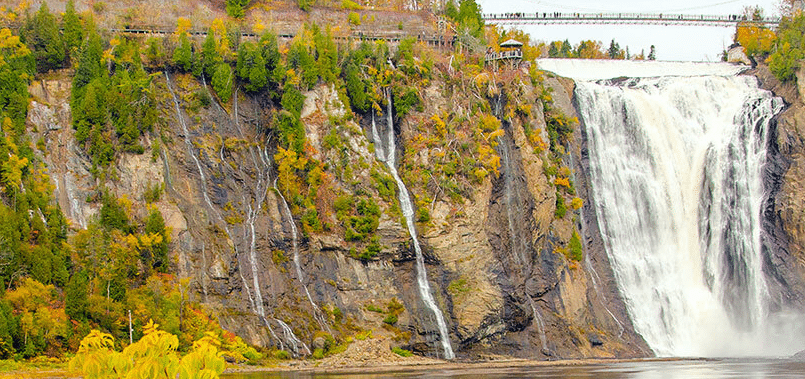 There's never been a better time to visit Quebec – fall is an extra special time to visit and walk the cobblestoned streets, explore galleries and dine in style. Montreal is a thriving multi-cultural metropolis with more than 1.6 million people while Quebec City is decidedly more quaint and French with a mere 600,000 inhabitants. The cities are easily combined by driving (2.5 hrs) or even faster by VIA Rail Canada where you get more scenery and less traffic. The train stations in both cities are architectural gems. Once you're in the cities, you can easily walk and taxi most places. And both cities also offer ample opportunities to explore on two wheels. Here are my top choices to experience the best of Quebec.
Stay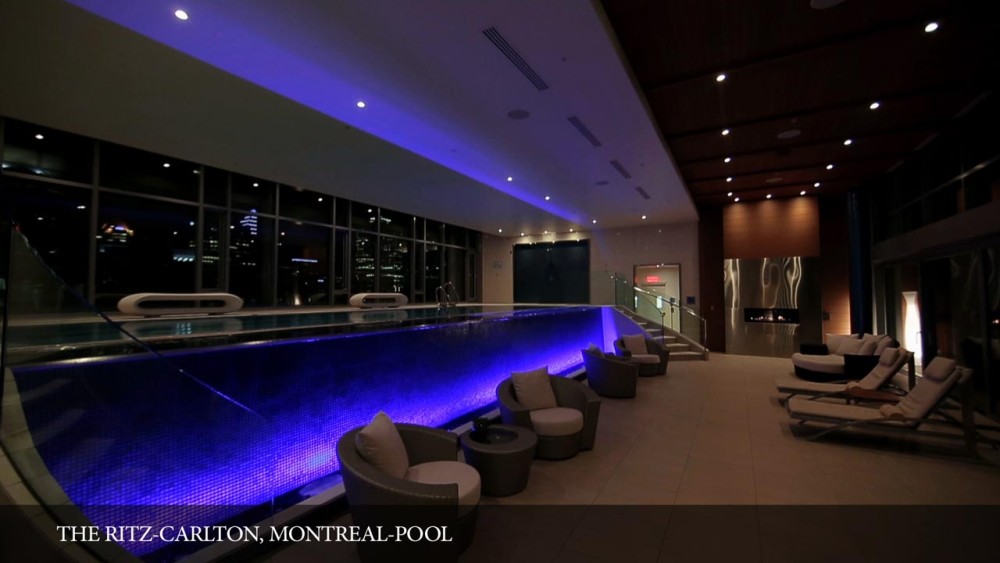 more info Montreal
The best hotel in Montreal right now is the recently renovated The Ritz-Carlton Montreal, located right in the heart of the bustling city's action. For families, the Ritz-Carlton offers an indoor pool and their signature Ritz Kids program. From there, visit the historic cobble-stoned city center of Montreal for its heritage, architecture and activities. For some exercise, head to Ma Bicyclette, Stephanie Thompson's bike rental operation, which is right on the Lachine Canal bike path near the Atwater Market. She'll hook you up with all the gear you'll need.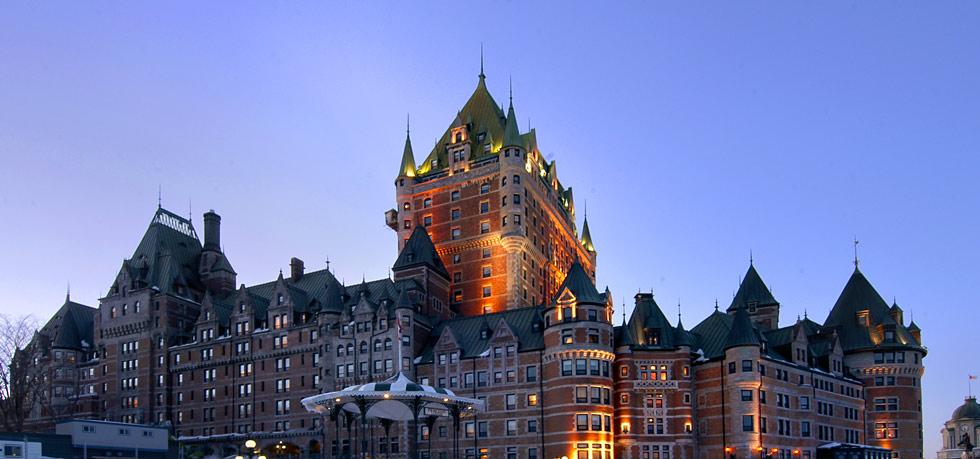 Exterior of the architecturally stunning Fairmont Chateau Frontenac. Photo Credit: Fairmont Chateau Frontenac.
https://roundhouseaquarium.org/classes-and-field-trips/roundhouse-field-trips/ cheap canadian generic sildenafil citrate Quebec City
The luxury Auberge Saint-Antoine Hotel is located in the heart of Quebec across from the St. Lawrence River. The hotel has 95 rooms and offers impeccable service. There is no on-site pool, but you can get a pass to the Le Chateau Frontenac (a Fairmont hotel) pool if desired. The GM Mr. Souman is a prince and ran the Bristol in Paris for 28 years before moving to QC. Alternatively, the Fairmont Chateau Frontenac: A landmark luxury hotel located in Old Quebec with breathtaking river views. The hotel has 611 guest rooms and suites as well as an indoor pool and spa.
Do and See
buy sildenafil citrate online cheap Montreal
Montreal as plenty to see and do for all ages. Take in the Montreal Biodome featuring over 4,800 animals and 750 plant varieties. And since Quebec is the birthplace of the Cirque de Soleil, be sure to see one of the jaw-dropping shows of color and contortion!
For nighttime activity, consider a haunted Ghost Walk in old Montreal. There are multimedia challenges, games, interactive areas and an IMAX theatre. At the beach park Jean Drapeau, kids can swim, play beach volleyball, jump on a trampoline and rent kayaks. Or take it up a notch at Six Flags, located on Saint Helen's Island. It is Canada's second biggest amusement park. Locals love to hike, mountain bike, or rent a paddleboat in Mount Royal Park designed by Frederick Law Olmsted.
For art-buffs, Montreal Museum of Fine Arts and the Musee d'Art Contemporain are world-renowned institutions. Some other must-sees include Parisian Laundry, one of the cities leading contemporary art galleries, Le Balcon d'Art, a selection of Canadian painting, and Armatta, showcasing contemporary photography.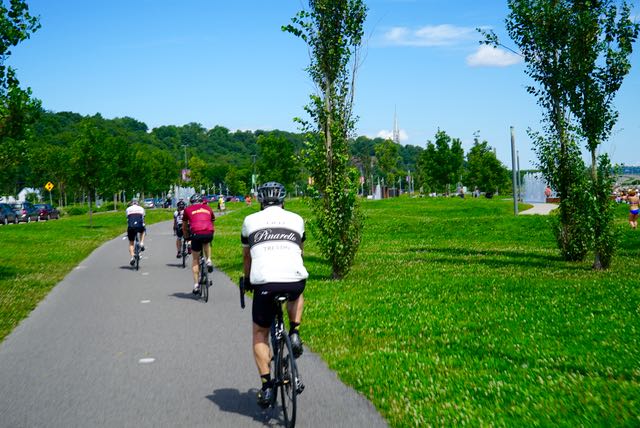 Cycling along the St. Lawrence River. Photo credit: Cari Gray.
Quebec City
There's no shortage of activities even though QC is a small city. The Musée de la Civilisation links the past, the present and the future while remaining strongly rooted in the reality of Quebec. There's an exhibit on Egypt there now – located right beside the Auberge. I highly recommend the Musee de Fort which presents a small, 25-minute sound and light show that recreates the six attempts to take over the city over the years– an easy and entertaining way to absorb all the history and geography.
La Citadelle is an active military garrison that cannot be visited individually but rather via a one-hour guided tour that will educate you on the American attacks, construction of the fortress and each of its buildings. The Plains of Abraham Battlefield historic park offers views overlooking the river. This is where the historical battle between the French and the English troops took place in 1759. For fish friends, there's the 10,000 marine animals which inhabit the Aquarium: fish, reptiles, amphibians, invertebrates, and sea mammals. Watch them when they're feeding or being trained.
Don't leave town without taking a bike ride along the Promenade Samuel-de-Champlain with over 25 kilometers of bike, roller blade and walking paths. Local expert David Mendel offers private walking tours. He has a deep knowledge of all things Quebec City so ask him any lingering questions you might have about the area.
Eat like a Local
Montreal
Don't Miss: Le Club Chasse et Peche, a preeminent fine dining location in Montreal. Locals and visitors alike enjoy meals here.
Montreal staples: Le Filet, Garde Manger and Le Bremner have the same owners, are very trendy and will impress your date. Joe Beef, a Montreal institution, has the dishes to back up its reputation. And at Au Pied de Cochon, try an upper-class take on the poutine.
Sweat treats: Try Juliette et Chocolat for ALL things chocolate or indulge your ice cream obsession with a taste from Bilboquet (my fave).
French: Leméac is the spot for traditional French while Les 400 Coups is for contemporary French. For the perfect combination of tradition and continental, Bouillon Bilk serves French-inspired cuisine.
Casual: Chez L'Epicier and Le Cartet are great casual spots, especially for brunch. Chez L'Epicier also has a location in Palm Beach, Florida.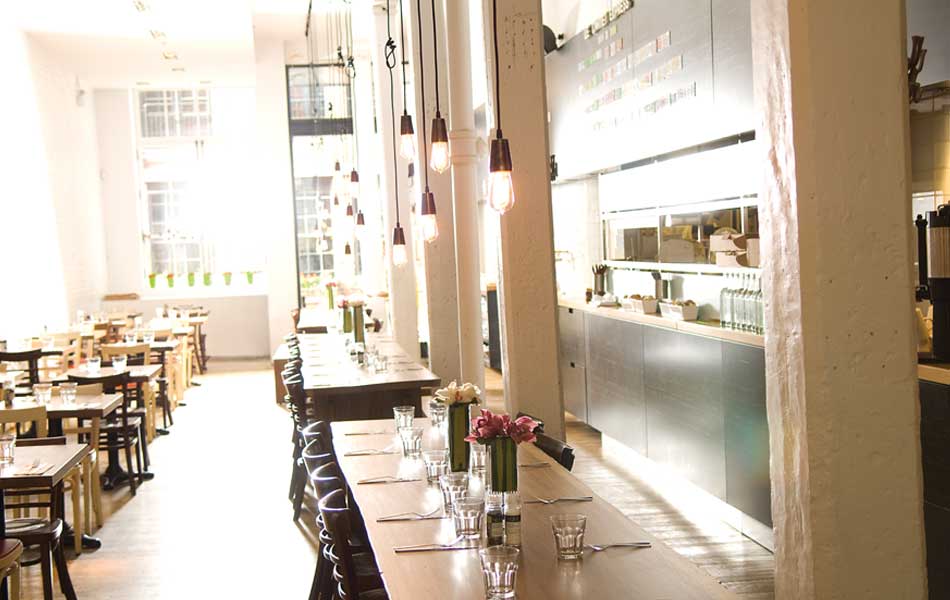 The casual and sunny brunch spot Le Cartet. Photo credit: Le Cartet.
Quebec City
Don't Miss: Panache, Auberge Saint-Antoine's in-house restaurant is a must! Expect local produce and a menu that constantly evolves with the season. And Panache Mobile, the casual pop-up gourmet food truck located off of La Promenade Samuel-de-Champlain, is worth the stop if you see along your way.
Italian: Café Bello is an Italian pizza and fresh pasta place with a lovely terrace and Il Matto is where you go when you want a big bowl of comfort food (pasta, of course).
French: L'Échaudé is a great French bistro for lunch and dinner and St. Amour is a rich gastronomic experience.
Casual: SSS and Toast are sister restaurants ideal for a quick bite or laid-back evening– think a cocktail and crostini.
A Day Outside the City
Montreal
Give a go at rafting or jet boating on the Saint Lawrence River. Sucrerie de la Montagne is one of Quebec's most popular sugar shacks. Spend the day learning how maple syrup is made, hike through the forest and try some local favorite dishes at the restaurant, all just a 1-hour drive from Montreal.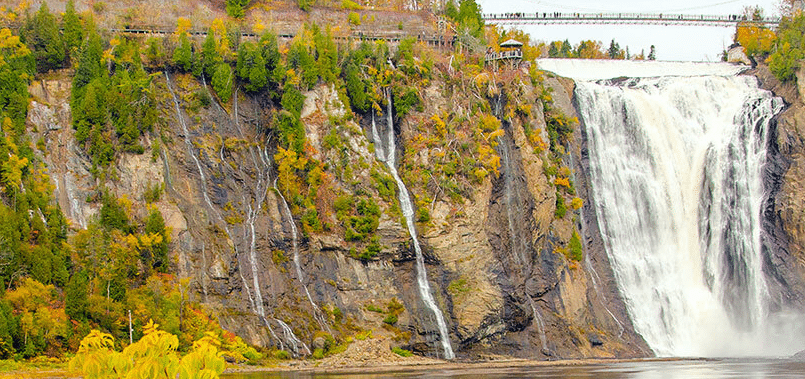 Rushing water and changing foliage make Montmorency Falls a scenic adventure not to be missed. Photo credit: Montmorency Falls.
Quebec City
A short drive from the city is the Orleans Island for local crafts, vineyards, cider houses, and farms where you can pick your own fruit- apples, strawberries or raspberries, depending on the season. Located between the river and the cliffs, the Montmorency Falls is just a few minutes from Quebec City. There's a cable car, walkways and plenty of touristy activities. The Canyon Sainte Anne is a 45-minute drive from Quebec City. Explore the imposing Sainte-Anne waterfall, 74 meters high. Go across the highest pedestrian bridge in Quebec at a towering 55 meters, thrilling via ferratas and giant zipline if you're daring. There's also the Valcartier, a water park ideal for families located only a 30-minute drive from Quebec City.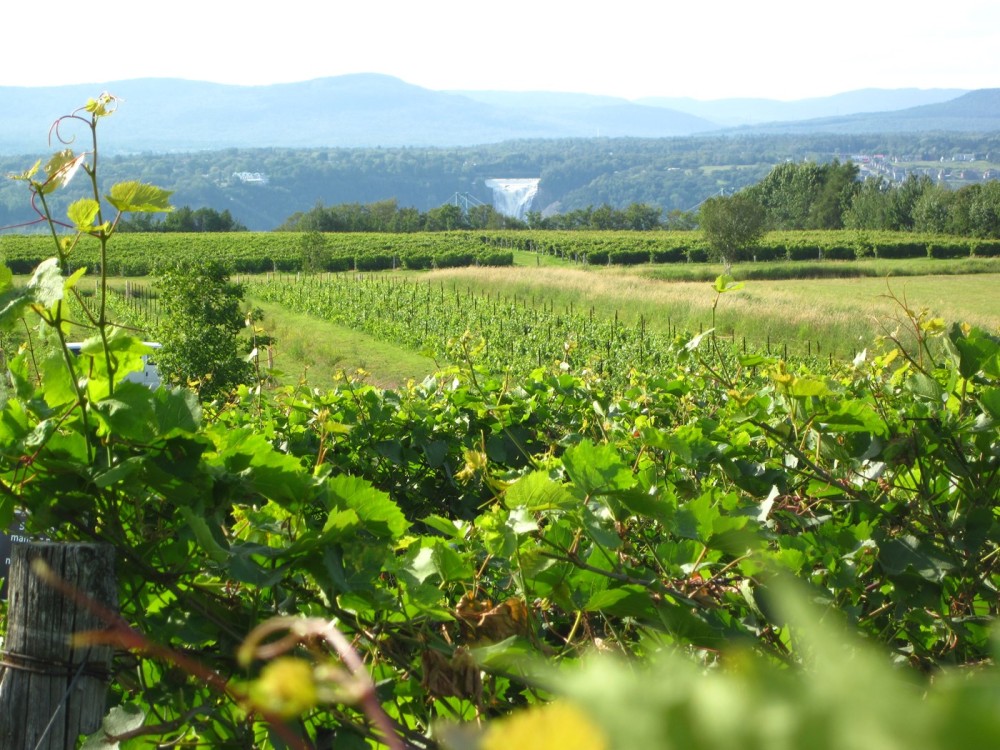 One of the vineyards on Orleans Island. Photo credit: Quebec Region.
Whether your journey is via rail, bike or foot, it won't be a dull one – and you certainly won't leave hungry! – when visiting Montreal and Quebec City, two of Quebec's urban hubs buzzing with food, outdoor activities and natural wonders.