What's New in Newcastle?
Posted on November 18, 2015 by Kristen Gill
Castles of Northumberland.
Plan on visiting North East England anytime soon? Well, you should, because a visit to Newcastle-upon-Tyne is well worth it! It's easy to get to via United Airlines' direct service from Newark Liberty International Airport (EWR) to Newcastle International Airport (NCL) that launched in May 2015.
Having once been associated with the industrial revolution and the mining industry, and portrayed in a rather bleak way, the "new" Newcastle has reformed itself into a thriving cultural center, complete with free art museums, state-of-the-art music venues, and being known as the premier destination in which "to party" (all those stag and hen parties can't be wrong)!
A totally compact city that boasts quaint walks along the famous River Tyne, a Victorian market full of all sorts of delicacies and crafts, the famous St James' Gate football stadium and club whose supporters are full of passion, and churches and galleries galore, Newcastle is a proud city and rightly so.
Here's a look at my recommendations of some of her charms, from what you must do and see, to where you must eat and stay…
Do
Woodhorn Coalmine Museum – this former 19th-century coal mine is now a museum and heritage center for art and local historic relics.
Grainger Market – first built in the 1830s, this covered market in the city center showcases a real slice of Newcastle's history. Here you can find specialist food, coffee and stalls ranging from sausage shops to shoe shops, bookstores, and everything in between.
Ouseburn – once the cradle of the industrial revolution on Tyneside, the Ouseburn area is once again becoming a vibrant place to live, work and play thanks to imaginative, culture-led regeneration projects and the enthusiasm and commitment of the local community. Now the stunning townscape is home to artists, musicians, and glass blowers. Check out Lime Street for musical venue The Cluny, Seven Stories, a charity committed to preserving children's literature, and Ouseburn Farm, where people with disabilities and the able-bodied can work together, in developing and running a farm project.
Quayside – this once-busy commercial dockside has been transformed into a new, trendy area along the banks of the Tyne, full of restaurants and cafes with views of Newcastle's many bridges, the most famous of them being those linking the city of Newcastle with the town of Gateshead. Most of them are lit up at night, and one of them is even retractable!
The Cycle Hub – boasting one of the best views in the city, this Café, Bike Hire, and Workshop Hub based on the banks of the River Tyne offers great coffee and food paired with bike hire and repairs. Mingle with fellow cyclists or simply park yourself on one of the outdoor picnic benches and bask in the sun. Their lemon and poppyseed cake is worth the stop alone!

The Cycling Hub.
Arts & Theater
Angel of the North – designed by Sir Antony Gormley, the Angel of the North is a contemporary sculpture of an angel with outstretched wings measuring 177ft across. According to Gormley, the significance of an angel was three-fold: 1) to signify that beneath the site of its construction, coal miners worked for two centuries; 2) to grasp the transition from an industrial to information age, and 3) to serve as a focus for our evolving hopes and fears.
BALTIC Centre for Contemporary Art – located on the south bank of the river Tyne, this former flour mill was closed in 1970, and then reopened as the biggest contemporary art museum outside of the Tate Modern in London.
Theatre Royal – Newcastle's Theatre Royal is highly regarded as the finest theatre building in England. Accommodating the biggest names in dance, drama, music and comedy the Theatre Royal hosts over 300 shows that are enjoyed by over 300,000 visitors each year. The Theatre Royal plays home to the Shakespeare Company, the National Theatre, Opera North, and Rambert Dance Company.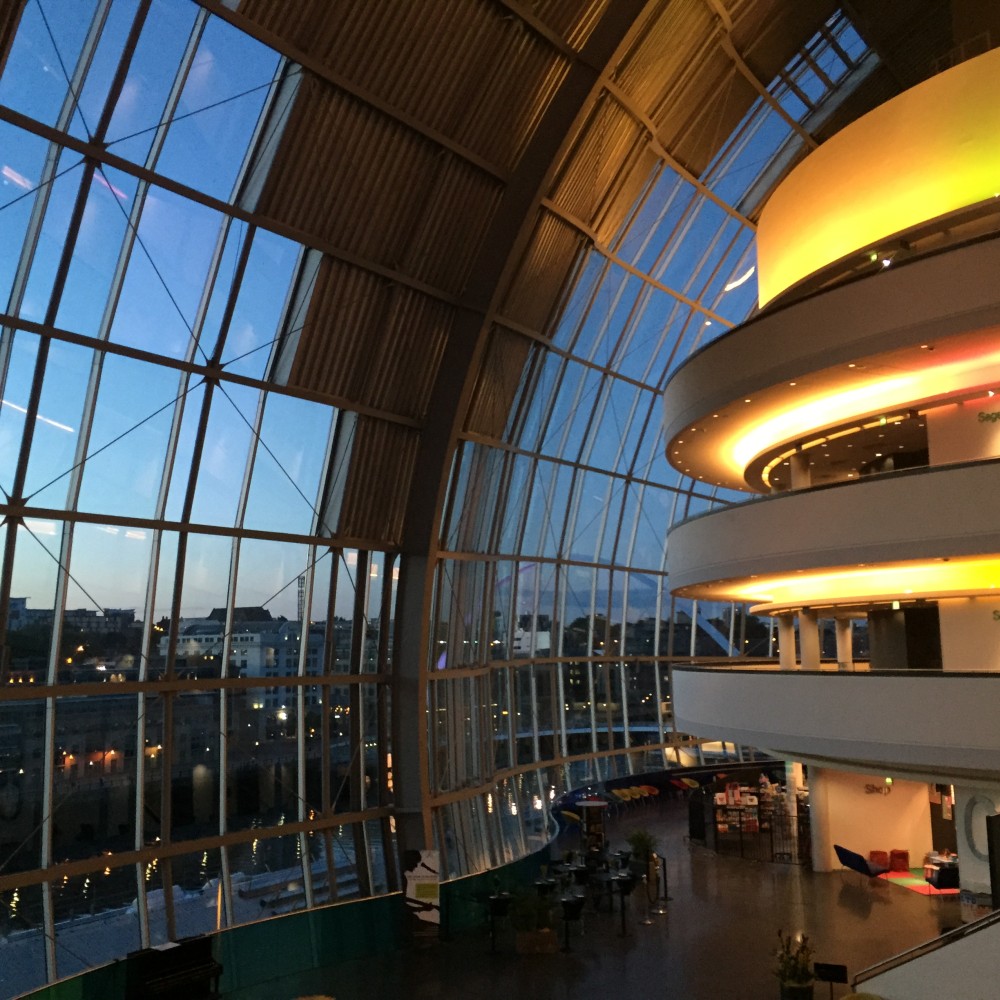 The Sage in Gateshead.
Music
The Sage in Gateshead – an ultra-modern steel and glass building on the quayside that's used as a conference, theater, and music venue. An international home for music and music discovery, Sage Gateshead offers both performance and participation projects. Concerts include all types of musical genres, including jazz, folk, blues, Americana, and rock. Music education is a big part of the program, and there is also a revolving series of art exhibits that line the walls.
Royal Northern Symphony – also housed in the Sage, The Royal Northern Sinfonia, Orchestra of Sage Gateshead, is the UK's only full-time chamber orchestra.
The Cluny – an intimate, split-level live music venue and bar in a former bottling plant, hosting up-and-coming acts such as The Legendary Shack Shakers and Elvis Perkins.
Visit
The Holy Island of Lindisfarne – Where else can you get mead made by monks? In 635 AD Saint Aidan came from Iona and chose to found his monastery on Lindisfarne. Climb among the island's ruins and enjoy the peaceful views in this calming place.
Bamburgh Castle – Spanning nine acres of land on a rocky plateau high above the Northumberland coastline, Bamburgh is one of England's largest inhabited castles. Steven Spielberg's latest film BFG (Big Friendly Giant) was just filmed here!
The Sandstone Way – a new mountain bike route that traverses fields of cows and sheep, crosses streams, flits in and out of forests, and skirts the edges of Hadrian's Wall. Book a tour with outfitter Saddle Skedaddle, who will not only equip you for the journey, but will also make sure you have a lot of fun along the gorgeous route.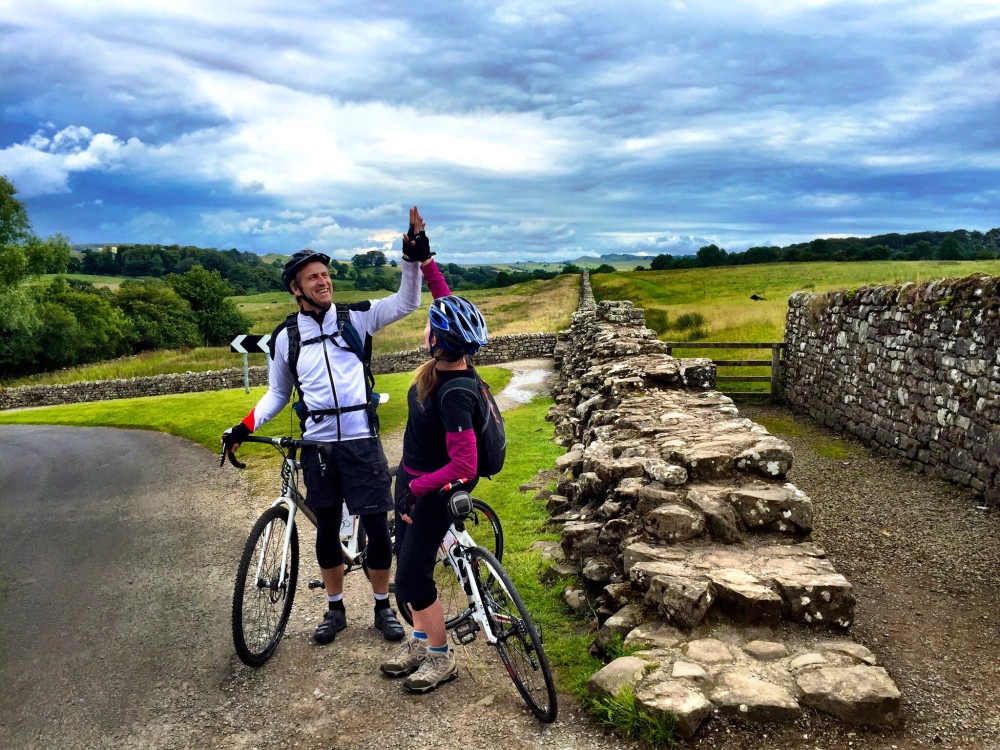 Biking Along Hadrian's Wall with Saddle Skedaddle in Northumberland.
Eat
House of Tides – set within the beautifully restored 16th century former merchant's town house, House of Tides was established in February 2014 by Kenny Atkinson, whose palate for seasonality and sourcing the majority of his ingredients within the British Isles is translated through his classically trained, yet modern day inspired dishes. If you can manage to get a booking, try the 2-course menu for lunch, and you can't go wrong!
Café 21 – holding a Michelin star and one of Newcastle's longest-running restaurants it has maintained its high standards of quality cooking for 25 years. With father of the Newcastle food scene Terry Laybourne still at the helm, the cooking is always top notch. A favorite was the perfectly cooked cod, with a side of cucumbers.
Hop and Cleaver Pub – in this joint they smoke their meats, brew their own small batch craft beers and love inventing all manner of cocktails. Try the brisket with grilled corn and sweet potato fries, coupled with bathtub bourbon of your choice!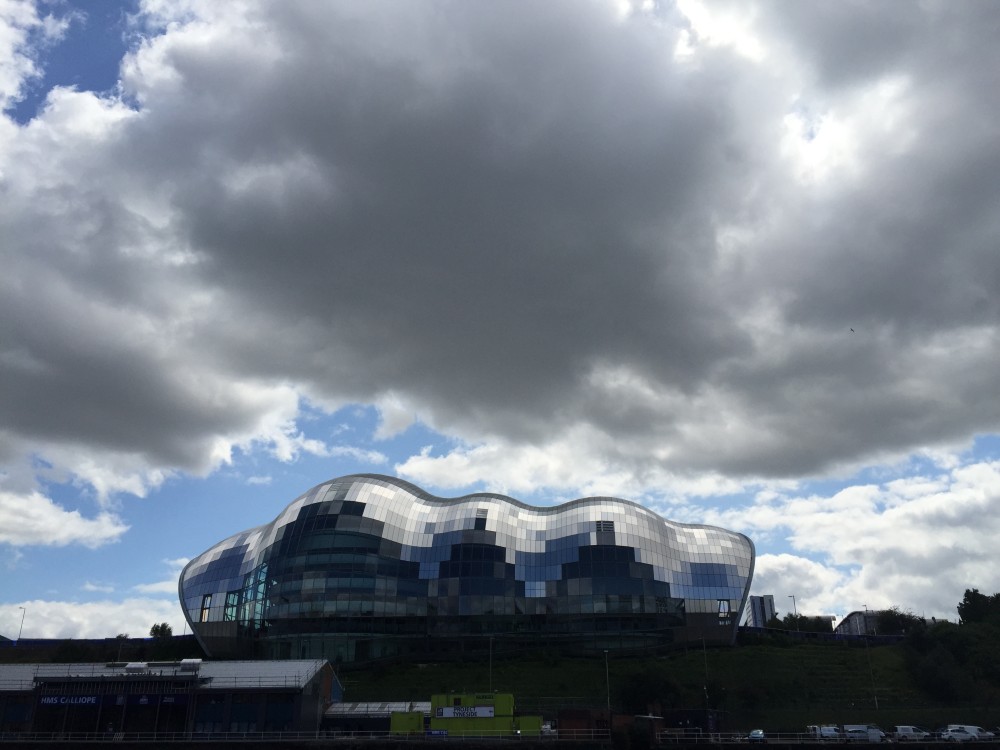 Sage Gateshead.
Stay
Malmaison – conveniently located along the quays, this contemporary hotel has a traditional French brasserie and bar, as well as Le Petit Spa downstairs. While I didn't have time to spa, I did use the brasserie as an away office, and it served as a good meeting place. Rooms come with deep bathtubs for relaxing and most have views across the River Tyne. There's a coffee shop attached, which makes it easy to grab breakfast or a snack before heading out for the day.
For more information, see www.visitbritain.com to plan your visit to the new Newcastle.