Co-Pilot Spotlight: Sophie Hollingsworth
Posted on August 14, 2017 by Nikki Pepper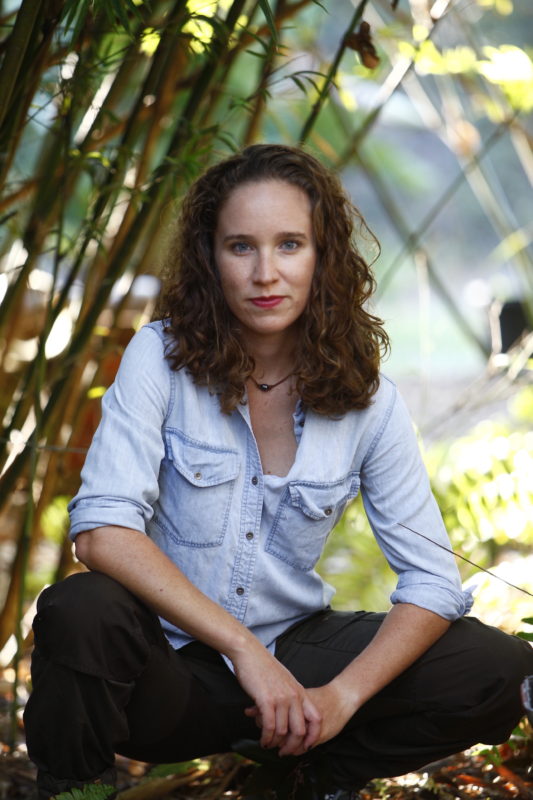 The Co-Pilot Spotlight navigates into the minds and experiences of travel professionals and professional travelers. Join us in the cockpit with Captain Sophie Hollingsworth, Founder of AquaAid International and Fulbright Scholar at the University of Sydney. As if that's not an accomplishment, Sophie is the youngest female in the world to hold a 200-ton Yachtmaster captains license.
cheap tadalafil canada OTPYM: Where was the first place you ever traveled?
http://thematinggrounds.com/about-mating-grounds/ sildenafil citrate otc SOPHIE HOLLINGSWORTH: Caribbean Islands. At 16, it was time for me to get a job. I was unsatisfied with the prospect of working in the local ice cream shop or diner and dreamed of traveling to distant lands. So I got a job as a deckhand on a private yacht in the Caribbean and never looked back.
viagra online canadian pharmacy Where is the last place you visited?
Ningaloo Reef, Western Australia. I took a 10-day camping trip in the Cape Range National Park to immerse myself in the Whale Shark and Humpback migration. When I was jumping in the water to dive with the whale sharks a humpback breached about 300 feet off the boat. I was seriously conflicted about which direction to look!  Unparalleled display of marine life.
Where is next for you?
Sail around the world with Water Around the World: one boat, three oceans, five water projects. As the youngest female to hold a 200-ton Yachtmaster captains license, I hope to inspire young women around the world that if they can dream it they can do it.  Beginning in 2019, AquaAid International will work with five remote indigenous communities, projected to be underwater in the next 50 years to establish sustainable sources of clean water and promote the revitalization of water based cultural expression.
Why do you choose to travel?
I am frequently told I was born 200 years too late. Apparently, I missed the great age of exploration. I disagree. Exploration is no longer about planting your nation's flag in an uncharted territory or being the first to summit the world's tallest mountain. While these accomplishments are iconic they are part of a larger fabric of exploration. Today, exploration is about increasing our knowledge and understanding of the world we live in. Through remote exploration I can showcase that we are all more similar than we are different. And therein lies the new power of exploration and why I travel.
How has travel helped to define your world view?
Travel has impressed upon me the importance of cultural diversity. Far too many of us experience the world through a single cultural paradigm, our own. We all face the same challenges: food, water, and shelter. Yet given the common challenges, the range of cultural adaptation is extraordinary! Unfortunately, these unique voices are being silenced in a whirlwind of conflict and globalization. With every worldview that fades, every culture that disappears no matter how seemingly remote or extraneous, we are left with a diminished repertoire of adaptive responses to the common challenges that face us all.
Where is the favorite place you've traveled?
Southern Autonomous Region, Nicaragua because of the simplicity of life and beauty of human kindness. It takes about three days to get here from the capital of Managua. The military hassle, sore butts from days on horseback, and soggy gear from less than water tight dug out canoes are all worth it when you are sitting under a sea of spellbinding stars, eating food harvest that morning, listening to live ranchero music, and chatting with the cowboys.
When on your travels have you felt the most out of your comfort zone?
Third Descent of the Onilahy River, Madagascar. I am not entirely a river person and frankly the idea of crocodiles, life sucking quicksand, and whirlpools that can hold you underwater for an indiscriminate amount of time is terrifying. Despite being out of my comfort zone for the first few days I went for it. Turns out, I loved it! The things I thought were terrifying, were not so bad. I learned how to avoid and get out of quicksand, how to read the river, and well I'd be lying if I said the crocodiles still didn't make me cringe.
Who is the most interesting person you have ever met while traveling?
Rasa Freddy Wilson on Maewo Island, Republic of Vanuatu. In a world replete with urbanization and outward migration I was fascinated to meet the paramount chief of Maewo Island. Rasa Freddy left his ancestral land in his youth to pursue a life in the city. After multiple years working in the urban world, including a successful posting with the US Coast Guard, he gave it all up and returned home to his ancestral lands. Trading capitalism for a barter economy and globalization for revitalizing his islands traditional knowledge.
What is the most adventurous food you have tried while on the road?
Toss up between raw reindeer and Malagasy cockroaches.
What's the next trend in travel?
Sustainable travel and culturally sensitive travel.
Any funny anecdotes from the road you care to share?
In 2016, I was on assignment to document the possible existence of a remote tribe of female chiefs in Vanuatu. I undertook field work in Tanna Island, home of the exotic Prince Philip Tribe. The 1600 members of the Prince Philip Tribe believe that upon the Duke of Edinburgh's death he will magically re-appear on Tanna as a healthy Melanesian man. The islanders selected a Tannese girl to marry the re-incarnated Philip, supposedly awaiting his emergence.  My goal was to locate this Tannese girl, interview, live with, and compare her role in society to that of other female leaders. Imagine my surprise when I found out that the woman who I had spent countless months researching and learning her language was a spirit in a rock! The interview proved to be a little one sided…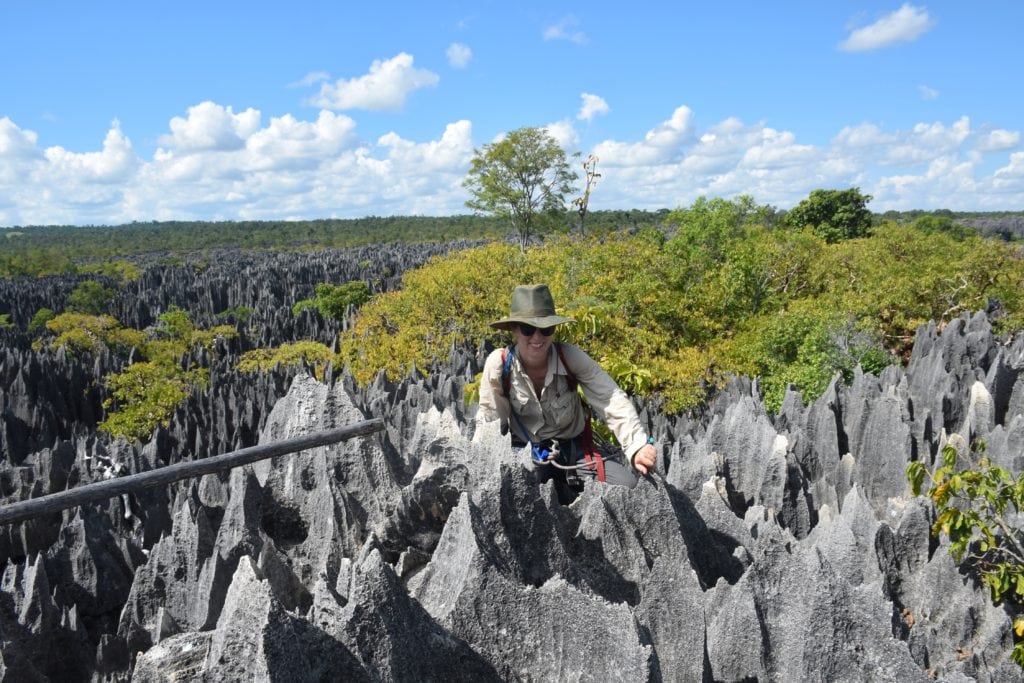 Sophie exploring Tsingy de Bemaraha, Madagascar.