Mary Gostelow's Hotel of the Week: Beverly Wilshire, Beverly Hills
Posted on February 12, 2015 by Mary Gostelow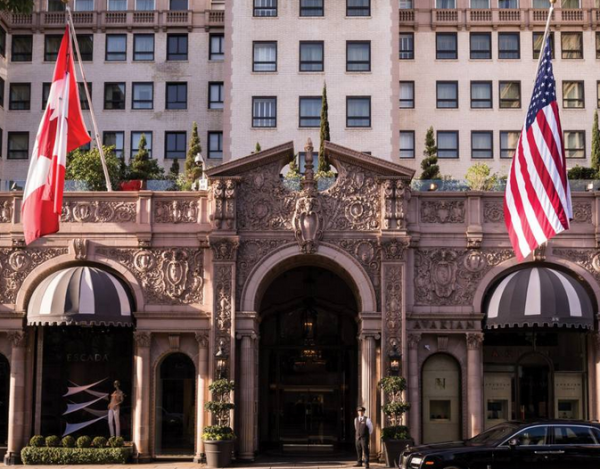 Wilshire Beverly Hills, 1928's history meets Hollywood glamour.
A weekly series featuring luxury hotel expert Mary Gostelow's hotel pick of the week.
Amazingly, this is the 25th anniversary of Pretty Woman, the $14 million movie that has grossed a staggering $463 million worldwide. Much of the movie takes place in and around Beverly Wilshire, Beverly Hills (A Four Seasons Hotel), and this is the year to head for a Pretty Woman for a Day special. Customize your stay with personal shopping on Rodeo Drive, a Rolls-Royce ride to a romantic barefoot picnic at Greystone Mansion and a visit to the new Wallis Annenberg Center for the Performing Arts. Yes, this is all about retail and re-fueling; pampering in the extreme.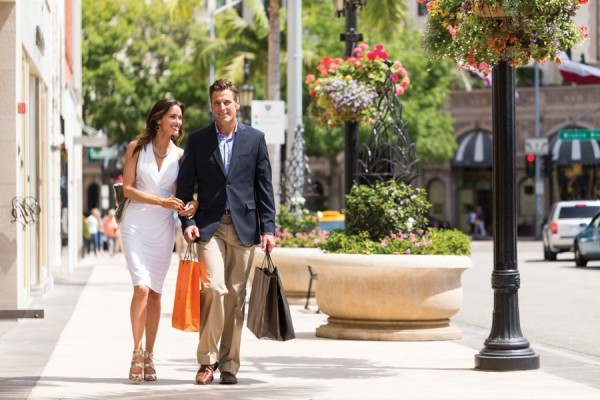 Stay here Pretty-Woman-style, for pampering and shopping.
Whether staying the Pretty Woman suite or not, everyone feels like a star at the 395-room hotel, with history dating back to 1928. It is that history, with gloriously-sparkling lobbies and the magnificent ground floor THE Blvd restaurant, that gives the place a sense of depth. Add the edgy, must-be-seen CUT by Wolfgang Puck, and a world-class spa for a complete luxurious dining and pampering experience. Regular guests may well choose an end suite in the Beverly Wing, say 1400, which comes with balconies for sunbathing: this is handy for the cabana you have reserved around the pool, a copy of Sophia Loren's. Visitors join locals who also frequent the sidewalk-set tables on Wilshire, which provide prime seating for people-watching on Rodeo Drive. Hotel GM is Ben Trodd.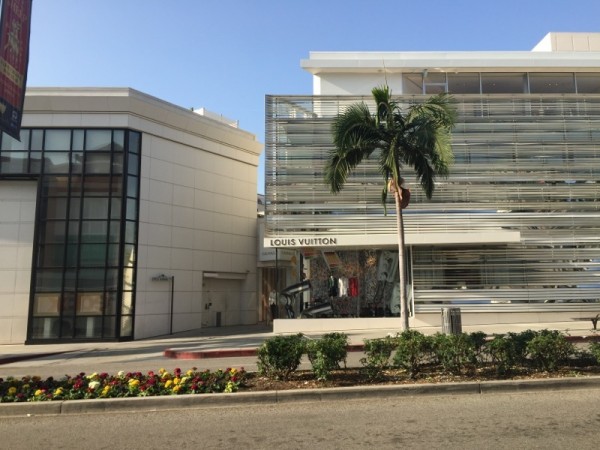 The view across from the hotel, Louis Vuitton on Rodeo Drive.
Check out last week's festive Hotel of the Week here.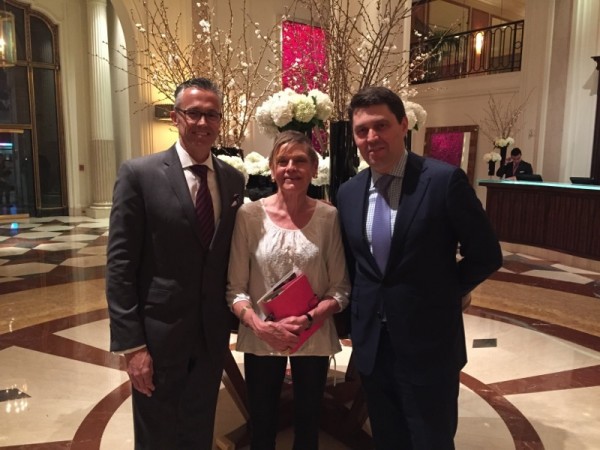 Mary with hotel GM Ben Trodd, left, and colleague Thomas Krooswijk Jr.