Mary Gostelow's Hotel of the Week: Waldorf Astoria Amsterdam
Posted on November 6, 2015 by Mary Gostelow
buy viagra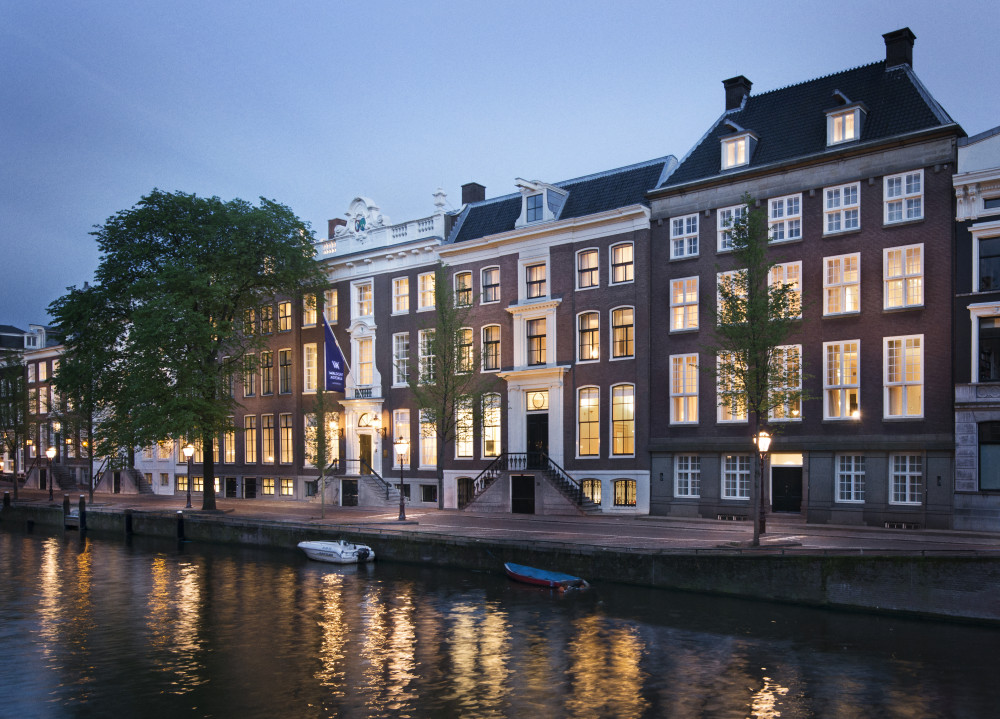 https://gypsyjournalrv.com/2019/06/summer-rv-trip-planning-2/ order cheap viagra online Part of a weekly series featuring luxury hotel expert Mary Gostelow's hotel pick of the week. Photo Credits: Waldorf Astoria.
The Waldorf Astoria brand is traditional upper-class elegance, as in the signature Waldorf Astoria New York (which has just appointed a significant new MD, Michael Hoffmann, long-time Peninsula and then The Boulders). But Waldorf Astoria is also adding 21st century beauties: the lovely two year-old Waldorf Astoria Beijing is alive with 21st century modern art, and Marlene Poynder, who opened it, is now MD of its contemporary, Waldorf Astoria Chicago.
This week, Hotel of the Week honors the 18 month-old Waldorf Astoria Amsterdam. It is unique. Formed of six, 17th century merchants' houses right on Herengracht – one of Amsterdam's famous canals, dug in 1631 to facilitate trade – it retains history outside, but elegance inside, fit for today.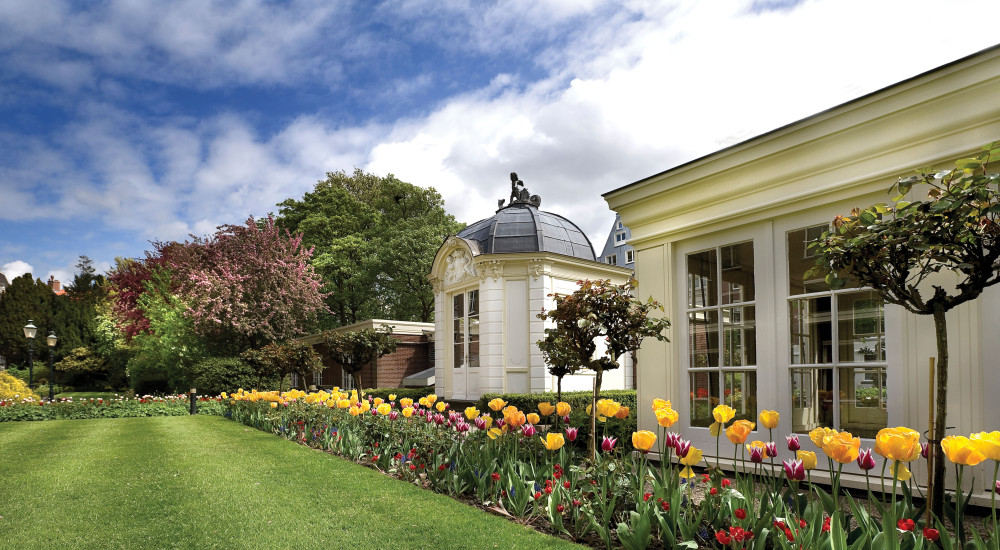 Just a few of the 8,000 tulips on the grounds.
Of the 93 rooms, choose one, say 306, on the top floor, looking down at the hotel's beautiful garden, where over 8,000 tulips bloom every April to May. Year round, there are striking modern sculptures. More sculptures flank the lower floor's corridor to the Guerlain Spa, where apparently as many male scions of local business as women go for two-hour facials and full body massages (the 24/7 gym is there, too, and it has an excellent Precor Adaptive Motion Trainer).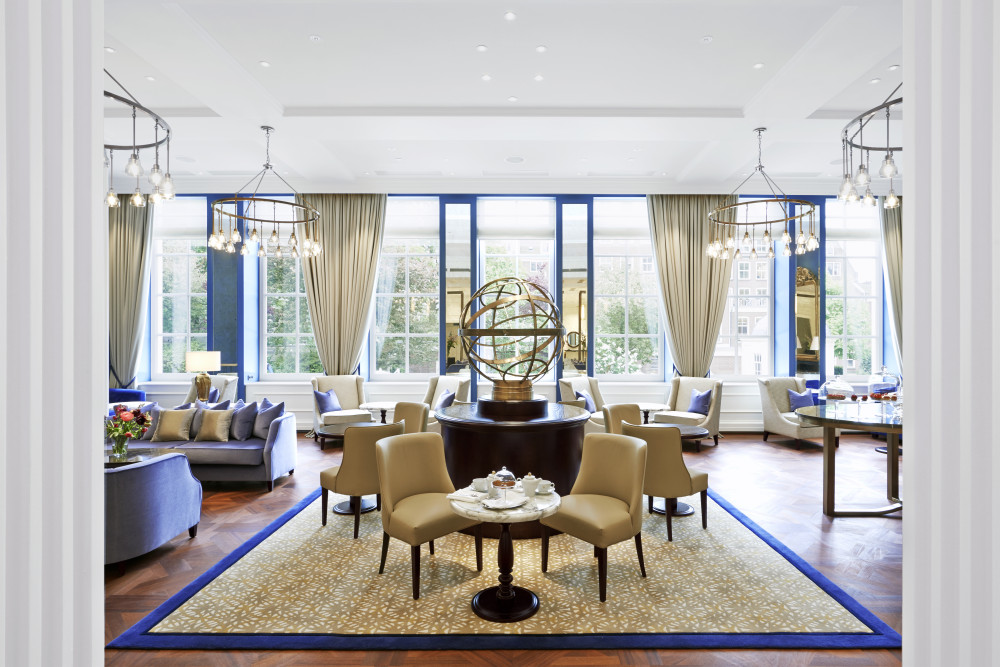 Peacock Alley, set for tea.
Under no circumstances miss afternoon tea in the elegant Peacock Alley. Have a drink in the bar where, behind the counter, are real safes from the days when one of the six buildings was a bank. And you absolutely must dine in Librije's Zusje, where chef Sidney Schutte went, unbelievably, to two Michelin stars within six months of opening.
Amazing dishes? One of my five pre-meal chef's specials was a one-bite bright pink beetroot meringue topped with haddock. My chosen appetizer was a hedgehog shape of abalone, chorizo and mushroom sticks, and oh, the dessert – slices of 'avocado' which in fact were shapes of avocado sorbet, the 'skin' being chocolate.  And after all that, back up in room 306 my bed had been sprayed with the specific aroma that I had been asked to choose at check-in.  Hotel GM is Roberto Payer.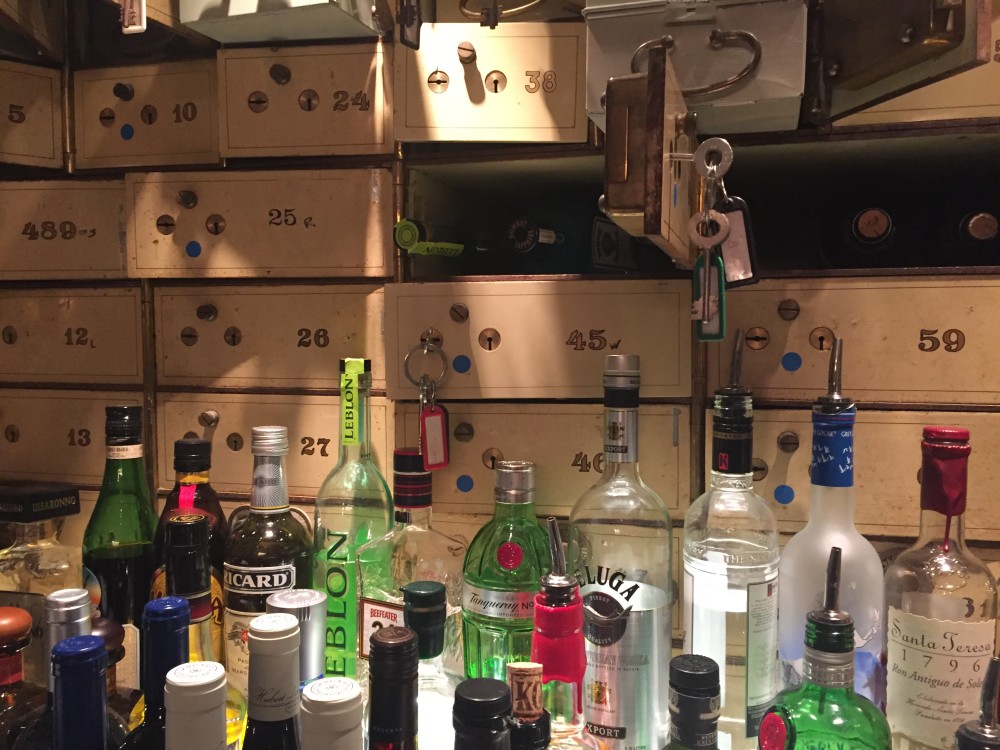 Remnants of the property's former life as a bank, now a bar.
Read last week's Hotel of the Week here.